Tired of all the crowds in the Columbia River Gorge or at Mount Hood? Or maybe looking for a quick getaway on a drizzly day? Consider the Wilson River Trail in the Oregon Coast Range.
Why You Should Go
One way of looking at winter hikes is, if you aren't gonna see much anyway, might as well go when it's all cloudy and rainy. And while the Wilson River Trail is a pleasant hike, it's pretty short on views, other than looking at the forest and the river. And even in a normal winter – which of course we didn't have this year – it won't have snow most of the time.
It's also one a good hike for kids, since most of it is easy, near a river, and easy to bail out on. (Here are some good kid-friendly hikes in the Columbia Gorge)
The Wilson River is a long trail broken into several sections, each with its own parking and trailhead, and for the most part, it's easy and not crowded — as opposed to all the hikes in the Columbia River Gorge. With a car shuttle, you could easily knock out one or more sections, or go crazy and do the whole 21-mile thing!
Stats
LENGTH: 20.6 miles, with sections 3.5–7.4 miles in length
CONFIGURATION: Out-and-back or one-way with shuttles
DIFFICULTY: Easy to difficult, it's up to you
SCENERY: Second-growth forest, a river, occasional views from up high
EXPOSURE: In the forest the whole way
TRAFFIC: Moderate on summer weekends, light other-wise
HIKING TIME: 12 hours for the whole thing, various for each piece
DRIVING DISTANCE: About 50 miles (1 hour) from Pioneer Square, depending on which trailhead you choose
SEASON: Year-round, but might get snow in winter, especially the Kings–Jones section
BEST TIME: March–April for flowers, or October for fall colors
BACKPACKING OPTIONS: None
ACCESS: No fee
WHEELCHAIR ACCESS: Only around the Forest Center
MAPS: Brochures available from Tillamook State Forest
FACILITIES: In the campgrounds at Elk Creek and Jones Creek, both closed in winter
INFO: Tillamook State Forest, (503) 357-2191
Dream of hiking to the world's greatest mountains?
Getting There
Take US 26 from Portland, driving 20 miles west of I-405, then bear west on OR 6, following a sign for Tillamook. The trailheads are all along the right side of the highway. For Elk Mountain, go 23 miles to Elk Creek Campground, just past milepost 28; the trailhead is 100 yards past the campground. Kings Mountain Trailhead is 3 miles farther along, just before milepost 25. Jones Creek is in a day-use area between mileposts 22 and 23; head for the campground, then turn left just after a bridge. Footbridge is a parking area on the right at milepost 20. For Keenig Creek, go 2 miles past Footbridge, turn right on Cedar Butte Road, cross the bridge, and go left onto Muesial Creek Road. The trailhead is 0.2 miles ahead, on the right.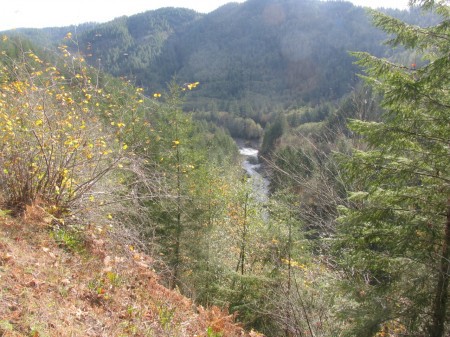 The Hike
If you want to do this whole 21-mile thing at once, stash a car at Keenig Creek, start your hike at Elk Creek, and know that you will have my respect and admiration, for whatever it's worth. Otherwise, pick one of these sections and have at it. I do advise a car shuttle, though; it's easy to work out and means you don't have to backtrack.
Elk Creek to Kings Mountain
This 3.7-mile stretch is most often done as part of the dreaded Elk Mountain–Kings Mountain loop. But it's a nice forest stroll on its own, with the highlight being a series of meadows just a half mile from the Kings Mountain trailhead.
In the first couple of miles you'll climb gradually but not harshly, then descend to a bridge over Dog Creek. The next mile is more of the same, until you descend to some meadows at 3.2 miles. Try to get here in the morning or late afternoon, and if you're quiet you might see some elk. Another half mile brings you to Kings Mountain Trail, where you can turn left and descend 0.1 mile to that trailhead. Or keep going.
Kings Mountain to Jones Creek
At 7.4 miles, this is the toughest, highest, and most scenic section of Wilson River Trail. Leaving Kings Mountain Trail, put in 1,200 feet in 1.5 miles on a steady grade. Just before the hilltop is a nice lunch spot, a trailside log where some old roadbeds intersect. Past there, you'll start generally downhill, making lots of tiny creek crossings.
Around 3 miles, you'll come to a big rock formation with a tree growing atop it. My friends and I joked, during a dreary November hike, was The Only Interesting Thing On The Hike. Half a mile later, you start a drop through a particularly lush area with a sea of sword ferns, and at 5.5 miles cross the North Fork of the Wilson River on a large, scenic bridge.
Over the next 1.9 miles, you'll cross two roads and a small ridge, then pop out at Jones Creek Trailhead.
Jones Creek to Footbridge
This section, at 3.5 miles, is the most popular section, owing to its ease of access, lack of big hills, and proximity to the river. The Jones Creek area has a campground nearby and a series of picnic sites along the first stretch of the trail.
After a third of a mile—some of which will certainly go into the river one day—you'll reach a big bridge leading over to Tillamook Forest Center, which has exhibits about the forest and its history. The trail stays on the north side of the river, occasionally on roads, and after a mile swings away from the river a bit to cross Cedar Creek on a one-log bridge over a deep pool that looks like a good place for a dip.
Soon after, you'll climb for about 1 mile to pass the 100-foot Wilson Falls, which may seem overrated if it hasn't rained lately.
The last 1.5 miles of this section traces a fern-filled bowl, then makes a long, gradual descent to the trail over to Footbridge, which crosses the Wilson at a deep, placid pool in a small gorge.
Tillamook Forest Center is open in Spring and Fall on Wednesday to Sunday from 10 a.m. to 4 p.m. Summer hours are 10 am. To 5 p.m. daily. Closed in Winter. Admission and programs are free. One thing to remember, though: if you park here and go hiking, your car will be stuck if you don't return before they lock the gates at closing time. See tillamookforestcenter.org for more info.
Footbridge to Keenig Creek
A 6.1-mile, lonesome stretch with another big hill but lots of cool scenery. In the first mile, you'll cross a log bridge and then head up to a rock bluff with views of the Wilson. At 1 mile, you join Wolf Creek Road for about 500 feet; head to the right, up the road to the north, to find the trail. Then things get steep for a mile, until you cross over a ridge at 2 miles to start a 3-mile traverse in and out of side canyons.
When you hit Cedar Butte Road, you have only 1.5 downhill miles through switchbacks and a recent clearcut. Nothing much to see, in other words, but by this time you're probably just ready to be done—especially if you're one of those 21-miles-in-one-day folks!
Follow me on:
Or sign up for my free, monthly(ish) newsletter: