Although I lead what I call "hiking in Italy" trips every year, the reality is they are hiking, touring, and eating trips to Italy. Lots of eating.
Here is the link for the 2015 trip, Hiking and Touring in Tuscany and Cinque Terre. I usually tell people it's "light to moderate hiking with severe eating." Without doubt, my favorite thing about the trips is watching the looks on people's faces when they sink into these meals.
So I've decided to put together a post or three about my Ultimate Italian Meal. This time, we'll be off to the place for dinner, sample some olive oil, and then have antipasta. Next time around it'll be the pasta itself, and in the last post we'll have meats, sides, salad and sweets.
So, off we go, for my Ultimate Italian Meal.
It could be that we'll eat in the place above, a private home and olive mill in the Chianti countryside. More on that in a bit, but meanwhile we might meet in the streets of a local village, after hiking through the hills:
Or perhaps in a little courtyard in the walled city of Lucca, after two days hiking in the Garfagnana Valley or the Apuane Alps:
Or maybe we'll be in Florence for the evening, on a rooftop terrace …
with an amazing view
dining in comfortable luxury.
But first, we should certainly have some olive oil. Nothing makes me happier than watching people have real olive oil for the first time, when they realize it's supposed to have taste on its own, and that taste is amazing. It only adds to the pleasure when you're getting it from the person who grew and picked the olives. (We often have a full olive oil tasting and class during the trip.)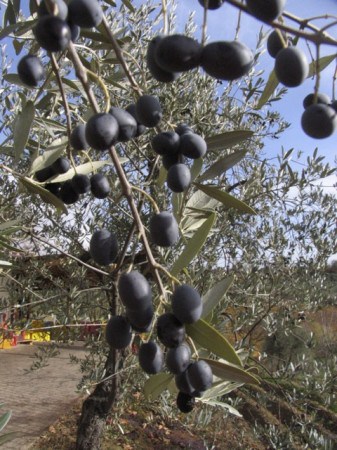 Though it's a year-round process, the actual making of oil is super simple. You pick them, dump them into one end of a series of machines
and a few hours later, out comes this amazing substance.
Then, they let it settle a bit, filter it, and bottle it.
And now we're ready to have some, so let's get to the table.
At this point, there will be meat, bread and cheese in abundance. There will definitely be oil and garlic on toasted bread, and bruschetta with tomatoes, maybe crostini with mushrooms, or olive paste, or lard. Yeah, lard, with a slice of cheese over it.
We might have salami, prosciutto, sheep cheese, sundried tomatoes, fresh tomatoes, peas, and wine. We'll definitely have wine.
And there could be baked goods in the vein of pizza
It could be casual, picnic style, like at a winery after a walk through the vines and groves and hills:
Or it could be a little fancier, in someone's home or a trattoria out in the country.
And there might even be a handsome shepherd, right there in the kitchen, making cheese … and friends. He might have just been showing us his favorite trails in the woods and singing a shepherd song for us. I'm serious.
So, are you hungry now? Tune in next time, and we'll get into the pasta. But here's a teaser first:
Want to go hiking in Nepal or Italy with me? Subscribe to my newsletter to find out about all my trips!