This place is highlighted in my book, Peaceful Places: Portland.
There's this point, just past Washougal, where you officially enter The Gorge. I don't know if that's geologically true, but it's officially true: there's a big sign for Columbia River Gorge National Scenic Area, and perfectly enough, it's right past the sewage treatment plant! This is even more striking coming back into Washougal, where you see a sign that says you're leaving the Scenic Area, and right beyond it is the paper mill in Camas.
If you're like me, you usually hit this spot moving pretty quick, either heading out to a hiking trail or back for a coffee in town. And if you're like me, you have no idea that there's a National Wildlife Refuge right there on the road. Turns out it couldn't be a better introduction to The Gorge. In fact, if you look at right, you can't even see the city!
Steigerwald Lake NWR, which just opened barely two years ago, is known mostly as a birding paradise. It's got a little, 1.2-mile trail across it, plus one other side trail, and an old levee road on the far side. So it's not much more than a leg-stretcher, and signs specifically prohibit jogging, bikes, horses, and dogs, even on leash.
Pretty quickly, you start to see patches of water, and the sounds of birds are everywhere. There was a hawk coming up out of this wetland every now and then, but I never caught it on camera. It wasn't 50 yards from the paved trail.
After about a half mile, perfectly flat, you come to a patch of forest with more water features. The second, larger one is Steigerwald Lake itself, just a hundred yards or so from the Columbia and surrounded by tall grasses and trees. Here, I saw herons and ducks and swallows and redwing blackbirds and all sorts of little friends I didn't recognize.
I also saw these two little cuties. I go back and forth on this, but I swear the three cutest living things are kittens, ducklings, and baby deer.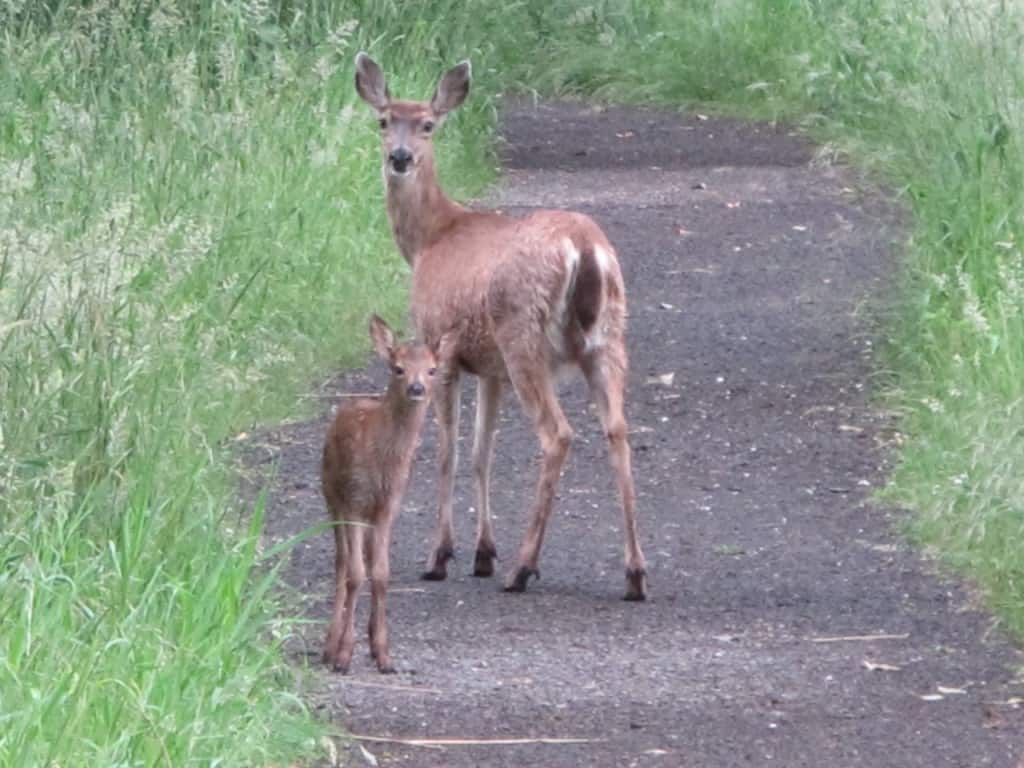 I have about a 40-second video of the two of them, pretty much doing the same thing they're doing here in this shot. Finally, I walked a little closer and just got this footage of them doing that heart-achingly cute thing they do. Man, I wish I could do that!
All in all, a lovely little leg stretcher, and a fine place to watch our flying friends. And, for that matter, our crawling friends. Just slow down, take a breath, and enter this guy's world for a moment. And maybe notice how tough it might be for you to even slow down long enough to watch it. Hmm. What does this tell us about ourselves?
That we should spend more time hiking around places like Steigerwald Lake.