There is this magical thing that happens in the Columbia River Gorge every spring. The hillsides green up, the skies clear, the temperatures rise, and wildflowers explode in beautiful abundance.
For hikers, this means escaping the city and, in normal years, the rain. (This year, of course, it's pretty much sunny everywhere.) And if you want to see outrageous wildflowers on a Gorge hike without too much effort, or crowds, get yourself out to Memaloose State Park.
You might know about Memaloose State Park from signs along I-84 in the Gorge, but those just lead to a campground. And if you've stayed in that campground, you know all about the trains that come through all night long, whistle blowing.
Memaloose Hills Hike – Why You Should Go
But what I am talking about is a hike that starts along I-84, or up above it on the Historic Columbia River Highway, and goes into an undeveloped area of oak forests, grassy plains, and rolling hills with spectacular views – and all of it covered in flowers every March and April.
In fact, on the day this post is going up (April 24), the flowers are basically at their peak. You will be wading through stands of yellow balsamroot, purple lupine, and red paintbrush, plus a host of other species of all sizes and colors, all of it in a countryside that looks like Tuscany but is close to home.
Where to Start
There are two options for this trailhead: a rest area on I-84 and a scenic pullout on the Historic Columbia River Highway. I prefer the rest area, because it's quicker to get to, adds some interesting country, and has water fountains and bathrooms. So I'll start from there; it's the first one east of Hood River, just past Mosier.
(Full disclosure here: I honestly don't know the legality of this parking option, but there's a lot more room than the other place — and a bathroom.)
Walk over to the west end of the rest area and look for a road going uphill, with a chain across it and a sign which I "authorize" you (as an author, you know) to ignore. This road is nice and shady, and will already offer some flowers.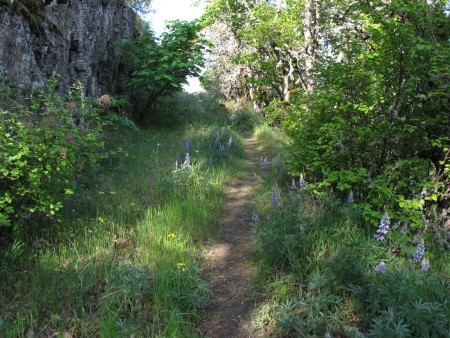 Soon you'll get views of some cool rock formations across a little draw …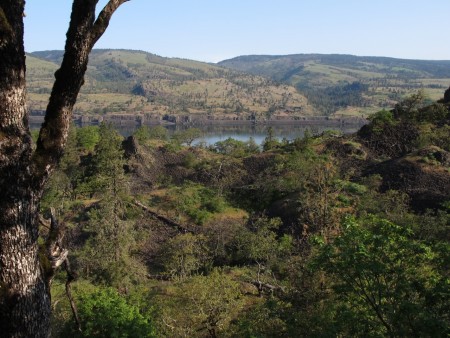 … and eventually come to a nice viewpoint of the river, which as you can see was remarkably calm when I visited. (These pictures were taken around 9 a.m. on April 20; try to get an early start!)
And just for reference, that's Coyote Wall and Catherine Creek across the way. Both are among the best wildflower hikes in the Gorge.
You'll keep climbing gently through more open country, passing the Perfect Picnic Tree along the way.
Upper Trailhead
After maybe half a mile you come up to the second trailhead option, a viewpoint along the Historic Columbia River Highway. (To start here, just take the Mosier exit and follow signs for Old Highway 30 East.)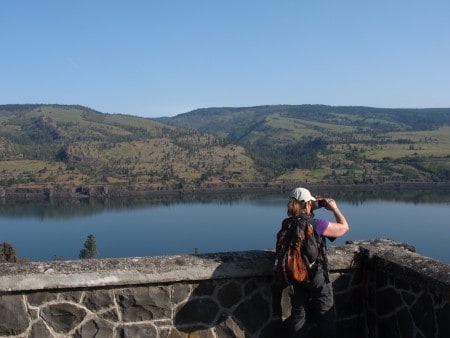 From here, look for a trail right across the road, and head up into some gorgeous country, with oak trees, pocket meadows, birds singing, sun shining, and flowers everywhere.
After another half mile or so, with only a little climbing, you'll be between two hills and come to a four-way trail junction. Left is a path through woods to a meadow, where the trail sort of vanishes. Going straight will take you up Marsh Hill, with its open summit, views of Mount Hood and the local area, and of course more flowers. Go there first; it's only a few minutes.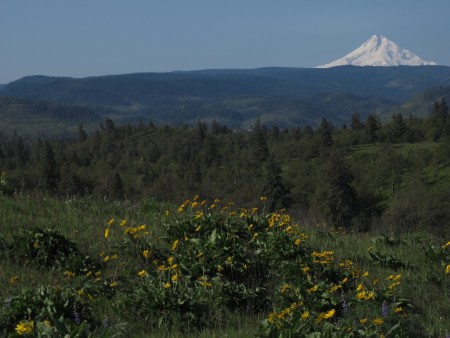 This is where I should talk about another loop that's available here. There's an old hand-drawn map circulating that suggests a trail heading off the east side of Marsh Hill towards Marsh Cutoff Road in the distance. Truth is, there isn't a trail there (at least we couldn't find it), but you can get there. But I'll talk about this later; for now, I suggest you go back down the way you came …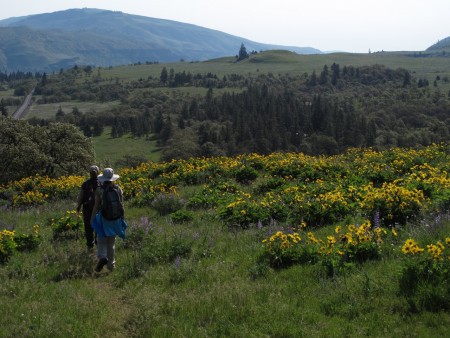 … and go back to the four-way junction. Now take the other fork (the right-hand option when you first arrive) and walk past a spring towards a fence line. Stick with the trail as it winds up a second, steeper hill to the right called Chatfield – named for the man who donated all this land to the state in 1925.
Chatfield Hill is even more fantastic that Marsh Hill, which makes sense as it's a little harder to climb.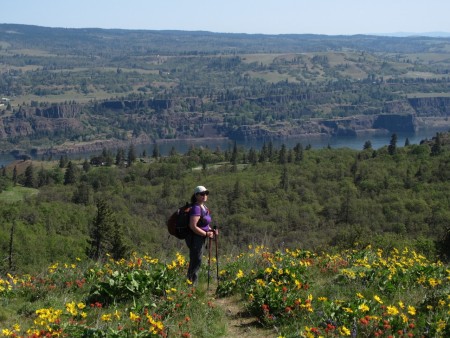 (Note here that the first picture on this post was also taken from Chatfield.)
For the simple hike, head back the way you came. If you want to try the longer loop, all I can tell you is (A) there's a lot of off-trail stuff to deal with, (B) there is some private property around that's hard to identify, and (C) I wasn't able to complete the whole thing because we lost the way. So there's your disclaimer.
But I do know this: As you head back from Chatfield to the four-way junction, look for a faint path off to the right which follows the fence line down in the flats, headed off to the east.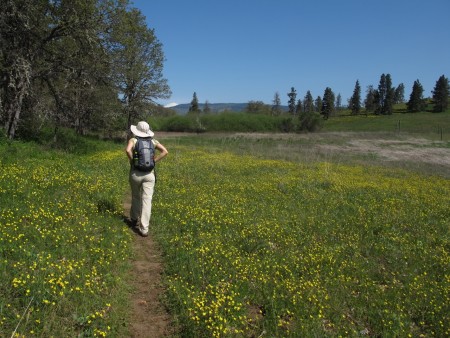 Follow that "trail" past a little marshy area on the left …
… and when the trail disappears, just keep heading east until you get to the road. The old map says you head up the road about 50 yards to continue the trail on the other side. Our group never found that trail, and at this point, since I don't really know what the private-property situation is out there, I have decided to just leave it here.
The best option – and the simplest one – is to just do the two hills and head back to your car. That loop is maybe 4 miles roundtrip with about 800 feet of elevation gain.
Some day they will build real trails in here – I assume they haven't already because of parking and property ownership – and when they do, you'll be able to say, "Oh yeah, I hiked that when it was a little ol' secret hike up from the highway rest area."
Read more Portland hiking stuff here. Connect with Paul: