Marquam Trail is a pleasant path through a wooded gulch just minutes from downtown Portland, and it leads to the highest point in the city, a park where you can take in a view of four volcanoes. What a city we live in!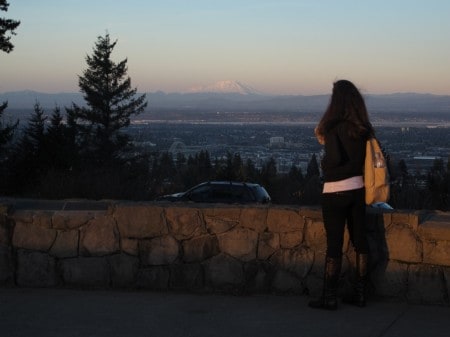 Why You Should Go
Council Crest, the tiptop of Portland at 1,071 feet above sea level, got its name in 1898 when a group of visiting ministers met there after a two-hour wagon drive. They assumed the Native Americans must have held many a council there. It turns out they probably didn't, but the name stuck. In the early and mid-20th century you could ride a trolley to the top and visit an amusement park.
Today you can get there by car or bus, but the best way is to walk up Marquam Trail through the woods. You'll feel like you're cutting through people's backyards on the way up, and the view from up there is spectacular. There's even an auditory oddity as a bonus. If you want, you can even extend your walk clear over to Washington Park.
Stats
LENGTH:

3.7 miles

CONFIGURATION: Out-and-back, with a side loop
DIFFICULTY: Easy on Nature Loop Trail, moderate to Council Crest
SCENERY: Woods, impressive homes, and a sweeping vista on top
EXPOSURE/RISKS: Shady all the way up, open on top, a couple of street crossings
TRAFFIC: Heavy on weekends and workday evenings, moderate otherwise
TRAIL SURFACE: Packed dirt, gravel
HIKING TIME: 2 hours
DRIVING DISTANCE: 1 mile (5 minutes) from Pioneer Square
SEASON: Year-round
BEST TIME: Any clear day
BACKPACKING OPTIONS: None
ACCESS: No fees or permits
WHEELCHAIR ACCESS: None
MAPS: Available at trailhead
FACILITIES: Water at trailhead and at Council Crest
INFO: Portland Parks and Recreation, (503) 823-7529
GETTING THERE
The trailhead is in Marquam Nature Park. Take SW Broadway over I-405, then take the second right onto SW 6th Avenue. Continue through three lights, and just after passing two large concrete water towers on your right, turn right on SW Marquam Street to enter a parking lot. You can also take TriMet bus #8 to the third light, Sam Jackson and Terwilliger (Stop 5804), and walk 200 yards to the trailhead.
The hike
Marquam Trail is a 7-mile stretch of the 40 Mile Loop that passes through Marquam Nature Park, running from Willamette Park to Washington Park.
As a diversion to start, consider taking The Nature Trail, a 1.2-mile interpretive loop trail that meets Marquam Trail and returns to the shelter. Grab a brochure and take the path on the left for that, or just head up the wide gravel path on the right to head for Council Crest.
After half a mile, the trail climbs a bit and crosses Sherwood Road, and there's an extremely cool treehouse on your left. Oh, to be a kid in a neighborhood like this! Another 0.4 miles on, you'll cross Fairmount Boulevard and then continue uphill.
After crossing yet another road (Greenway), in an area planted decades ago with May-blooming rhododendrons, you'll walk uphill to reach the wide, open area atop Council Crest, where couples come to snuggle and kids come to throw a Frisbee. Rest a moment on the two benches there to admire the view of Mount Hood—and check out the dates inscribed here. The benches were dedicated to a couple who both made it to age 98, dying within a year of each other. Nadia Munk was one of the founders of the park, in whose dining room plans were made to save Marquam Gulch 40-plus years ago. That group, which became Friends of Marquam Nature Park, stopped plans for apartments in the ravine and lobbied for multiple trailheads to make the area accessible as a retreat from the urban world.
Now, climb to the stone circle at the top of the park. Plaques there point out the four volcanoes and give the native name for each. To the east you can see into the Columbia River Gorge. The view to the west goes out to Beaverton and, on a clear day, the Coast Range. Finally, for an odd little treat, find the small metal disc in the middle of this stone enclosure, stand on it facing Portland, and say, "Portland rocks."
Possible Extension to Washington Park
You can connect this trail to Washington Park, if you're up for something a little longer.
As you start back down the trail, take a left just after you enter the trees
This trail eventually reaches the intersection of SW Talbot and SW Fairmount.
Walk down Talbot about 0.3 miles and turn right onto SW Patton.
200 feet ahead, take a trail descending to the left.
Follow it 1 mile through the forest until you reach an access road along US 26.
Cross the bridge over the expressway, then look on the left for a trail going up the hill, into the trees again.
This will lead you through a meadow, behind the World Forestry Center, and eventually (in 0.2 miles or so) to an intersection with Wildwood Trail. (This is also the end of Marquam Trail.)
Nearby is the MAX station; you could also keep going on Wildwood for another 30 miles or so!
Read more Portland hiking stuff
here
. Connect with Paul: