The whole question of "best hikes near Portland" is not only objective but also seasonal. We have to follow nature's cues, and deal with her limitations, to find the best hikes within, say, a two-hour drive of Portland — which just happens to be the range of my book, 60 Hikes Within 60 Miles of Portland.
I'm working on the fifth edition of that book now, which involves a lot of hiking, and I do try to hit hikes at the best possible time. For me, often, that means chasing wildflowers, and any list of the so-called "best hikes near Portland" has to take into account this combination: Saddle Mountain in late June to mid July. It's easy to reach, not that hard to do, and — if you catch it on a clear day like we did — it's a straight-up parade of views and wildflowers.
The Stats
Mileage: 4.6 roundtrip. Pay no attention to the trailhead sign (2 miles) or the pamphlet they give out (2.5 miles), which don't even agree with each other!
Elevation gain: 1,600 feet. Basically, it's Angels Rest.
Getting

there:

Go west on US 26 from Portland to the turnoff for Saddle Mountain Natural Area, which is just 10 miles before the turnoff for 101. It's seven bumpy but paved miles from there.
On the Web: See the park's page at oregonstateparks.org.
Fees: None for hiking.
Facilities: Bathroom, picnic sites and campground at the trailhead.
Dogs: Allowed, but I really don't recommend it. There's fencing material on the trails which helps our traction but would mess with their paws.
The Hike
You start out a little steep on a paved trail that quickly passes two milestones: a big ol' stump on the right that's close to 10 feet across, and a side trail to Humbug Mountain — which isn't the Humbug Mountain, highest point on the Oregon Coast, but just a little bump 0.1 mile away which has the only real view of Saddle Mountain in the park. That's where I took the picture at the top of this post.
The first mile isn't so interesting, except that you pass picnic tables which make me wonder how they got there, and there's some pretty nice forest along the way. There's also one area where you can tell the wind blew down a whole bunch of trees. Otherwise, it's really about pushing through until you start popping in and out of the forest, with ever-improving views of the rocky mountain above and the valley with woods and clearcuts below.
And my goodness but the flowers are abundant and lovely this time of year. Like I said, finding the best hikes near Portland is really about finding the intersection of the trail, the weather and the current conditions — which is why I recommend Saddle Mountain in early summer, and also why I try to post current hiking conditions and news weekly. It's just too bad I don't know my flowers better.
A little after a mile up, the views and the flowers just get astounding. I know there are some which grow only on Saddle Mountain and nowhere else in the world, but I couldn't tell you which is which. Instead, here's a selection of flower shots, (Hint: you can just click on one of them and then scroll through a slideshow.)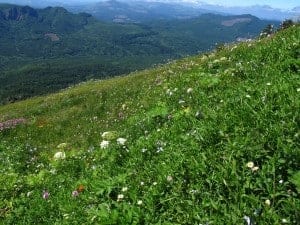 It isn't just about the flowers on Saddle Mountain, though; there's also some really impressive trail construction. I know, that's a weird thing to point out, but before they built some of these trails, and covered other areas with this fencing material, some parts of this thing were sketchy.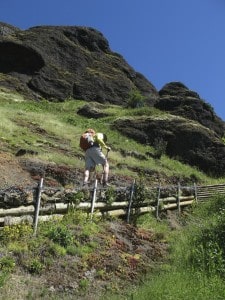 Saddle Mountain is also the highest thing in Northwest Oregon, and nothing near it is nearly as high. So the views are pretty extensive. And the mountain itself is interesting, since it's lava that cooled under an ancient sea, making it smooth and rounded. Here's The Official Saddle Mountain Trail Photograph. Seriously, check every trail report on this place in history, and you'll see this shot: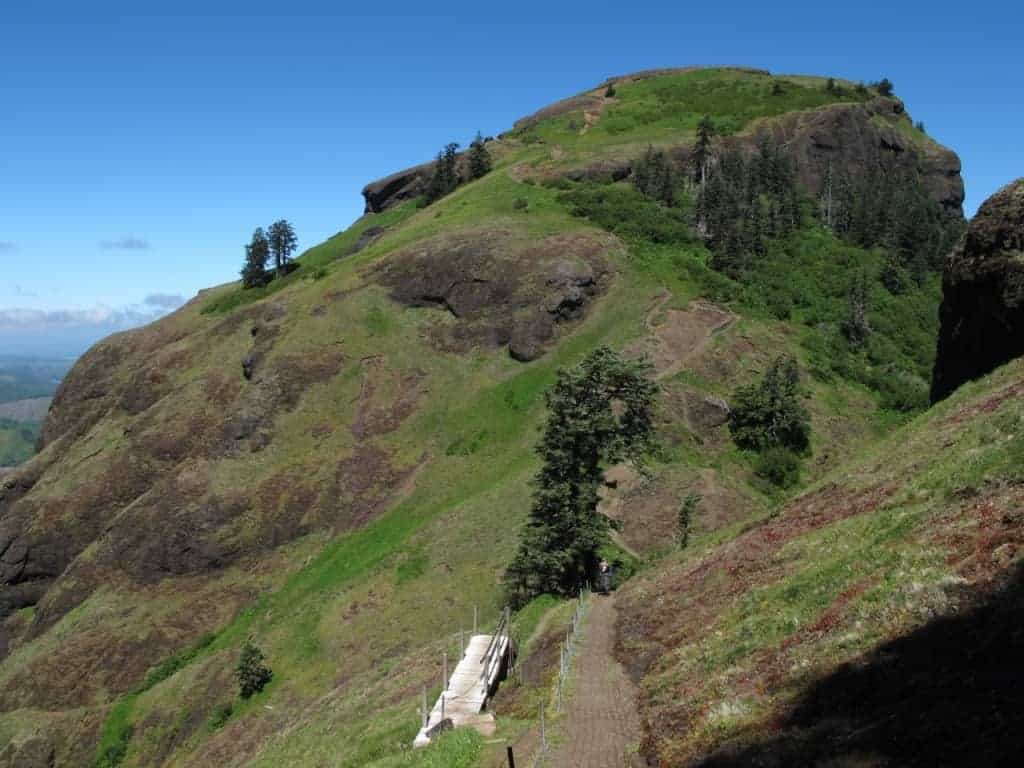 Yes, the last part is a smidge steep, but it's almost all covered with that fencing stuff, so traction isn't an issue at all. (I don't recommend this one for dogs, though). The last push is about 300 feet, and then there's a railed-in area at the summit with a sitting bench and some berserk views.
You can see Mounts Rainier, St. Helens, Adams, Hood and Jefferson. You can see the ocean, the town of Astoria, the bridge there and the mouth of the Columbia. I once saw the Olympics from up here! It's a great view, and a great place to have lunch.
So now you know why, especially in early summer, Saddle Mountain really is one of the best hikes near Portland — and certainly one of the most popular. We got away on a weekday and started pretty early, so there were only six people on the summit. On a weekend this time of year it can get pretty nuts; I suggest you start real early and then go eat at Camp 18 afterwards. You could go there early — they open at 7 — but I doubt you'd feel like tackling Saddle Mountain, or anything else, after that culinary hoedown.
I don't just hike, though: I'm also the Portland Breakfast Guy. Check out BreakfastinBridgetown.com.
[schema type="review" name="Saddle Mountain Hike" description="Definitely one of the best hikes near Portland, especially in the early summer when the wildflowers are blooming." rev_name="Hike" rev_body="It's easy to get to, fairly easy to do, and rewards your effort with views of five volcanoes, the ocean, the mouth of the Columbia, and about a million wildflowers." author="Paul Gerald, Author of "60 Hikes Within 60 Miles of Portland"" pubdate="2013-07-08″ user_review="8″ min_review="1″ max_review="10″ ]