Haven't thought about hiking in Tuscany? Well, how does this sound?
You rise early to a spring morning in the Tuscan countryside, sip a little cappuccino and grab a pastry at the village coffee shop, then off you go walking through the countryside, past hilltop villages and ancient monasteries, through flower-filled fields and along rows of grapevines and olive trees, then wind up at a winery, or maybe a cheese maker, or an old church, where you settle down for a picnic lunch while admiring the rolling hills all around you.
If that sounds interesting at all, you'll want to come on Trails and Tables of Tuscany, which I am leading for the Mazamas in 2014.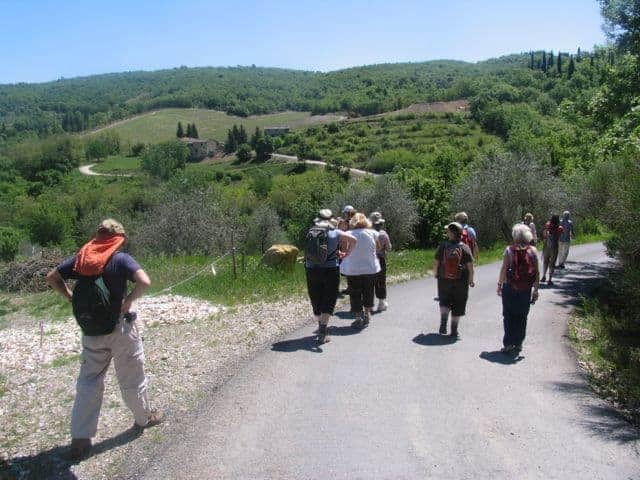 It's a 12-day trip that begins and ends in Florence. Along the way, we will hike in the Appenine Mountains, having lunch with a shepherd family; hike and eat all over the Chianti countryside from a base hotel in a medieval village; and visit the Tuscan coast, where we will explore rocky beaches and take the ferry out to the island of Elba.
The cost for all this, depending on a few factors like the number of people attending (maximum 12, including me) and the exchange rate, is about $4,000. That includes everything from the time you arrive in Florence, minus souvenirs and maybe a lunch or two. My experience is that airfare from Portland to Florence right now is about $1,200. And once you hit the airport, we've got you!
Want to know more? Get in touch. Meanwhile, here's a video and a photo gallery to whet your appetite a little more.
Some of these photos were taken during the fall, so just imagine them all green instead of autumnal: