I try not to throw around phrases like "perfect hike," but Lookout Mountain, just east of Mount Hood, gets about as close as anything can to that standard.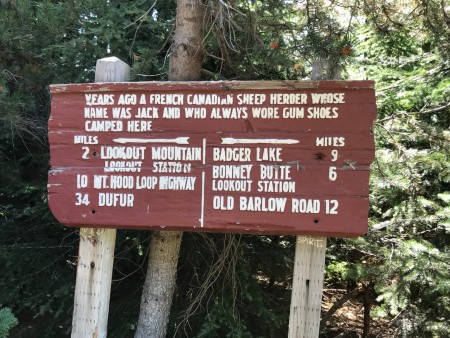 Why? Because it is a mix of effort, payoff, cool forest, sunny meadows, relative solitude, flowers, springs, and a big-time view that includes volcanoes, forests, a lake, the Columbia River, and the deserts of Central Oregon. And you can soak you feet in cold water after, then head for a fruit stand in the Hood River Valley.
So yeah, pretty darn perfect.
The Lookout Mountain hike starts on the shoulder of Oregon Highway 35 a little north of the entrance to Mount Hood Meadows Ski Resort. There is parking for a few cars here, and quite a few more just south, on the other side of the highway, and across the East Fork Hood River.
The first bit is a not-very-exciting climb for almost two miles, but it's a nice grade and a beautiful forest. The reward is the view of Hood you see at the top of this post, and then a much flatter trail that eventually puts you at Gumjuwac Saddle. An interesting sign here refers to, among other things, the 1925 Mount Hood Loop Highway that doesn't even exist anymore. (You can see a fragment of it on the Pioneer Bridle Trail, just off Highway 26.)
From here, take the Divide Trail, which wasn't signed on my 2017 visit. To find it, put the sign on your right, walk about 10 years up the road, and look for the trail on the right, headed into the woods. This will wind through meadows that are a stark difference from the cool, shady forest you climbed through. It also crosses a spring before entering a 2015 burn area where a shortcut trail used to head up towards the peak. Now we keep with the main trail as it swings around to the west and back into the forest.
When you see the High Prairie Trail on the left, keep going; you'll pass another great view of Hood, then keep trucking up another half mile or less to the true summit. It's a stupendous view, the site of a former lookout, and you can see from Mt. Rainier to the Three Sisters. But, unique to this spot, you can also see into Central Oregon and the Columbia River, out east of The Dalles.
Here is a video from my Youtube Channel:
High Prairie is another attraction up here, and you can loop that into your hike by adding another two or three miles. You can also drive to High Prairie and make this a much shorter hike. But I like putting in the effort, feeling like I earned it a little more, seeing the variety on the way up, and sticking my feet in that cold, clear creek down by the car. Oh, and then heading to Draper Girls for some cider and/or Apple Valley for a huckleberry shake.
That's what I call, yes, a perfect hike.
Here is my Gaia track, which you can see in full here.
And here is my photo gallery (click on the first one to scroll through them all):
Read more Portland hiking stuff here. Buy signed books here.
Connect with Paul: